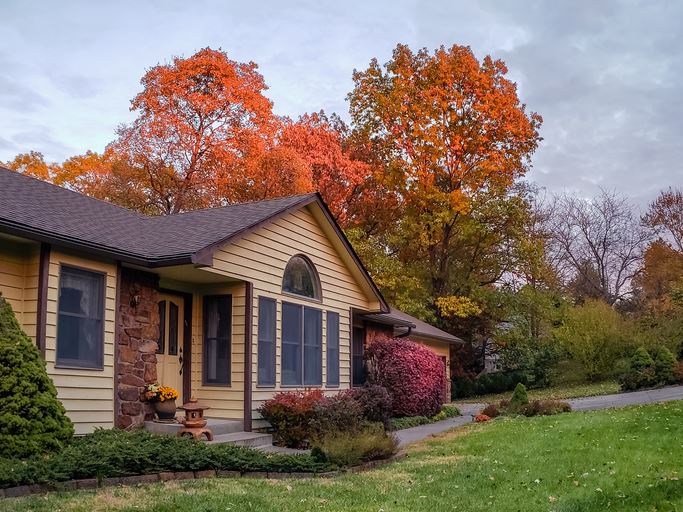 We hope you're as excited as us for some cool, fall air and pumpkin carving. According to the Old Farmer's Almanac, the coldest part of fall will arrive by mid-November! It's time to close off your water valves and keep those pipes warm because the season is starting to change. If your plumbing isn't ready to face the cold weather, Blue Star Plumbing can help you get there!
Fall in North Texas is notorious for sudden and sporadic freezes. It is safer to prevent issues at the start of the season so you don't have to worry when the unexpected does happen! We know some homeowners whose living rooms were left flooded because they put off their plumbing preparations until it was too late. We won't let that happen to you! The following tips will help prepare your home for the upcoming fall weather.
Prepare your outdoor plumbing.
Your home's outdoor plumbing includes exterior pipes, spigots, and water hoses. Since you won't be doing any gardening outside this fall, it's a good idea to protect your pipes from any stagnant water, the main cause of bursts pipes during cold weather.
The first thing you should do is turn off the interior shut-off valve responsible for your exterior plumbing. Once shut off, you should empty any remaining water from the faucets your hoses connect to. All hoses should be disconnected for the fall and winter so there is no chance of any water freezing inside your plumbing.
Insulate your pipes.
The most troublesome plumbing issue you could experience this fall is a burst pipe. As temperatures drop, any still water in your plumbing is prone to freezing if the piping is not insulated. The ice puts pressure on the pipe's exterior and can cause a complete break in the line. Homeowners don't ever think it could happen to them, but we always get several calls each season for this issue.
Avoid any damage to your plumbing and home by insulating your pipes. Any exposed piping can be protected with foam coverings found at your local home improvement stores. For the pipes in your walls, be sure to keep your indoor temperature warm enough to combat freezing temps.
Flush your water heater.
During the fall and winter, your water heater works twice as hard to provide your family with warm water. A seasonal flush from the pros at Blue Star will clear out sediment build-up at the bottom of the tank. Once your water heater is flushed, it will be much easier for the system to deliver warm water straight to your faucet.
You can't be too cautious when it comes to your home's plumbing. Preparing your home each season doesn't have to be a hassle when you have a team like Blue Star at the ready. For any problem, big or small, give our plumbers a call.